Amici Children's Camp Charity provides funding for children and youth from lower income households to attend an overnight summer partner camp in Ontario on a multi-year basis.
At camp, children have the opportunity to increase their self-confidence, make new friends and develop life skills such as independence, teamwork and goal-setting. Most importantly, overnight camp is fun!
Amici and its partner camps commit to supporting each eligible camper to attend camp year after year until they have outgrown the program. Returning families complete a renewal application form in the fall for the upcoming season.
Over 75% of Amici campers return to their partner camp each summer.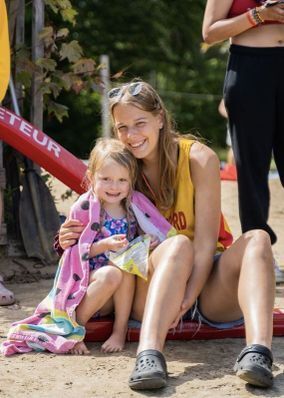 Eligibility
Amici campers are from lower income households, have limited access to recreation programs and similar outlets, and are not receiving any other subsidized funding for overnight summer camp.
Eligible campers:
are children between the ages of 7-17

meet our financial eligibility criteria
Amici does not provide funding for day camps, family camps or school year camps.
Learn more about our Application Process.
Camp Sessions
Caregivers may request a specific session length, a special program and/or a specific partner camp. We do our best to honour these requests, but we can't always guarantee availability. In cases where applicants do not have a specific session or camp request, we will advise of camp options available, helping to match a child and partner camp. 
In addition to the regular camp program of one, two or four week-long sessions, many Amici partner camps also offer specialized programs including leadership training programs, wilderness out trips and programs for children requiring additional support. 
Leadership Programs
Amici provides funding for Leadership Training Programs on a case-by-case basis, in consultation with each partner camp and each Amici family.
Typically, these programs are designed for youth between the ages of 14-17 years who have at least one year of camp experience.  Please note that some programs require an additional camp application or selection process and space is often limited.
In 2022, 24 camper attended leadership development programs for a total of 85 weeks!
​​​​​​Camps Providing Additional Support
If the child would benefit from a camp program offering additional support for disabilities, Amici works with a number of camps who specialize in this programming. There is a different process for applications for these programs and camps.
First, choose the the Amici partner camp whose program you feel best meets the child's unique needs. Apply directly to the camp, informing them that you are also applying for support through Amici. The partner camp will conduct an initial screening of each new applicant according to their typical application process. The camp will assess the child's medical and developmental needs to determine if their camp is a suitable environment for the child.
Once a child is approved by the camp, the family will be referred to Amici to apply for funding. Amici will then conduct a financial analysis and complete reference checks according to our typical application process.
Please note that we are not able to review funding applications for campers at camps providing additional support without an accompanying referral from the partner camp. Many of Amici's partner camps provide support for campers with unique needs but most cannot offer 1:1 support. 
For more information on any of the above information, please refer to our Camps Providing Additional Support section or contact Jodie at jodie@amicicharity.org.  
Camp Stories
Have you or your child attended camp through Amici in the past? We would love to hear from you! Get in touch with Jodie to share memories from camp, and the impact the experience had on you and your family.
We look forward to hearing from you!