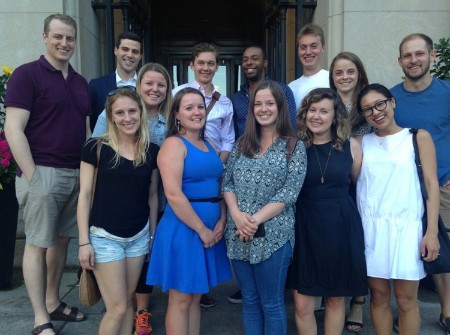 Amici's Young Professionals' Council (YPC) is a group of dedicated and passionate camp enthusiasts who are devoted to raising awareness of Amici.
Our mission is to spread the power of camp through fostering relationships with the community and bridging lifelong camp connections in support of Amici's vision: all children have the right to discover their full potential. Run by the Amici YPC, Amici's Evening Program Event Series bands Toronto's young professionals together for spirited evenings of activity, networking, and fundraising. Each event draws on the incredible talent and vibrancy of our community, while creating lasting memories with friends. 
The inaugural Amici Evening Program will band over 100 of Toronto's young professionals together on Wednesday, October 17 in the vibrant and historic Distillery District to raise funds to send children from low-income families to summer camp year-after-year. We are embracing the theme of: Camp Jams, hosting Toronto's incredible talent for a night of live music, networking, drinks, games and more.
Buy your ticket today! Tickets are $20 in advance or $25 at the door.
To learn more about the YPC, please reach out to Robyn or to learn more about upcoming events, visit our Instagram, Facebook and Twitter today!