Stories from the Road - July 2018 Camp Visits
Hello from your friendly neighbourhood Amici Program Manager, Madeline! It's my joy to share with you some stories from the road. This summer I've had the honour of seeing many of Amici's powerhouse partner camps in action. Read on to hear some of my adventures and discoveries from these visits. Let's dive in to some stories from July!
Trip 1!
My journeys started with a lunch-time visit to Camp Kawartha. Their nature education centre, strawbale buildings and greenhouse getaway really showcase Kawartha's commitment to raising the next generation of environmental stewards. Their newly completed pathway throughout camp makes it possible for campers of all abilities to enjoy every aspect of the beautiful site.
Trip 2!
The Amici team visits four partner camps in just two days in the Minden area!
The first stop on our team extravaganza: the sweeping grounds of Camp Onondaga! I was struck by the excitement of so many campers in action, balanced with the serenity of nature. The boardwalk along the waterfront showcases many of the amazing activities available at Onondaga along with the beautiful forest, clear lake and grand campfire. The other side of camp is perfect for thrill-seekers including a zip-line into the lake, giant swing and skate park!
That evening we landed at Kilcoo Camp, which is rich with camp history. Hand painted Cabin Signs in the dining hall, mementos of trips gone by in a secluded trip den, and a small camp museum remind campers that they are part of a long and proud camping tradition when they join the Kilcoo family. And geewhiz did we ever feel like family! Campers and counsellors of all ages introduced themselves to us and demonstrated the warm Kilcoo handshake.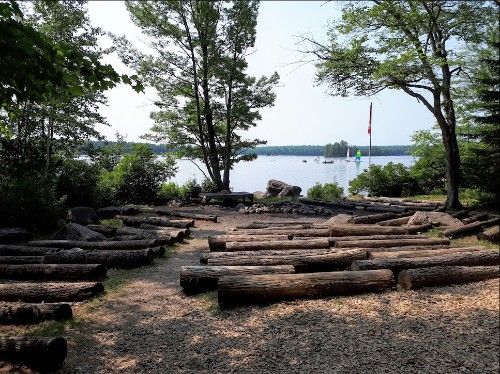 While at Kilcoo, we had the pleasure of meeting the Camp Awakening cabin. This friendly crew greeted us warmly on the the porch of their cabin. While gathered for morning flag raising, we were very touched to overhear an Awakening camper ask his camp director if he could stay for longer next summer. Clearly camp meant more to this child than simply being a fun outdoor getaway.
Our final stop on the team expedition was to wonderful
Camp Wanakita
! We were all blown away by Wanakita's ability to manage an overnight camp, a day camp and a family camp simultaneously! We passed over a little bridge where a stream fed into the lake. We saw Wanakita campers enjoying the unique activity of "swamping", looking for creatures and natural treasure. Some of these past discoveries are preserved in their magnificent nature hut, right by the water.
Trip 3!
I got to visit Camp Otterdale with one of my favourite Otterdale-alumni: my mum! On our tour, mum pointed out how things have changed since her time there as a camper. Most notably a small building on the waterfront with a beautiful view was once the dining hall! As we enjoyed a wonderful dinner, we got to see a distinguishing feature of Camp Otterdale in action. Campers use a large peg board to independently sign up for their activities on the following day. We were able to witness the independence this fostered in campers, along with the huge sense of community that came from campers of all ages participating and supporting one another in activities.
An early morning start got me to RKY Camp in time for delicious french toast breakfast! It was awesome to see the beautiful site of our newest partner camp, featuring rock from the beginning of the Canadian Shield, and the magnificent row of pines that's home to RKY's high ropes course. I met RKY's integration coordinator who is committed to making sure campers with specials needs are getting the most out of their camp experiences, having fun and making friends.
Before heading home, I got to see Camp Kennebec in full swing! The drive into camp is filled with twists, turns and narrow hills, but the fun signs lining the road are sure to calm the nerves of any camper who has first-day jitters. And let me tell you - there was not a jitter to be seen at camp! Campers participate in activities with confidence and smiles, evidence of Kennebec's special combination of nurturing and encouragement. Their newly complete swim area allows for maximum fun and safety to be enjoyed by swimmers of all abilities.
Bonus! Robyn and Judy took a day trip out to Camp Kirk - here's what Robyn has to say about this remarkable camp!
Our visit to Camp Kirk was nothing short of wonderful. For those who have ever had the pleasure to visit Kirk before, you know it is a small yet magical camp, full to the brim with remarkable campers and staff. We were greeted by a cabin of campers in the Life Skills program, who proudly showed us around their beloved summer home. They toured Judy and I around, making sure to stop off at the rock climbing wall, swimming pool, theatre, arts & crafts building and everybody's favourite, the giant swing! It was an absolute pleasure to see the supportive and nurturing community fostered by Camp Director, Erica, as well as her fluffy sidekick Henry!
Thanks for reading along with my expeditions! Stay tuned for stories from August as we venture off to many more camps! Until then, have a supreme summer!